Do you like wide open spaces, old stones and villages with character? Travel the roads of Aveyron, walk the paths and paths to discover beautiful landscapes and remarkable heritage.
Tourist circuits
Around Villefranche, Villeneuve and Najac, many villages are worth a visit! Of the Great sites of Occitania our Most Beautiful Villages of France, Aveyron and its neighboring departments are full of sites to explore. Each more beautiful than the next, these villages tell the story of our region. Stroll through their alleys, taste good products in their markets and visit their monuments. But to visit them all, you will have to get up early! So drive Simone!
---
Hikes and walking tours
How about we walk? A simple pleasure that superb landscapes of Rouergue make you rediscover. To embrace the thousand nuances of the territory, to enjoy a one-on-one with nature or to live one's faith, walking gives meaning to the world around us and reconnects us to the essentials.
A short walk on a discovery trail in the forest, a walk in the heart of gorges of the Aveyron, a loop with a view of the Lot valley, a hike on the causes… So many options available to you!
All roads lead to Santiago de Compostela
Since the Middle Ages, one of the great expressions of the Christian faith remains the pilgrimage to Santiago de Compostela. France has four main paths (the vias) to achieve this. Two of them, the Via Podiensis and the Via Tolosana, come together thanks to a link from Conques to Toulouse. Go on an adventure!
---
Hikes and tours by bike or mountain bike
Are you more handlebar than stick? Put on your helmet, get on your bike and explore the roads and paths of the Bastides and Gorges de l'Aveyron. Around Villefranche, Villeneuve and Najac, alone or accompanied by professionals, explore the Aveyron by bicycle.
---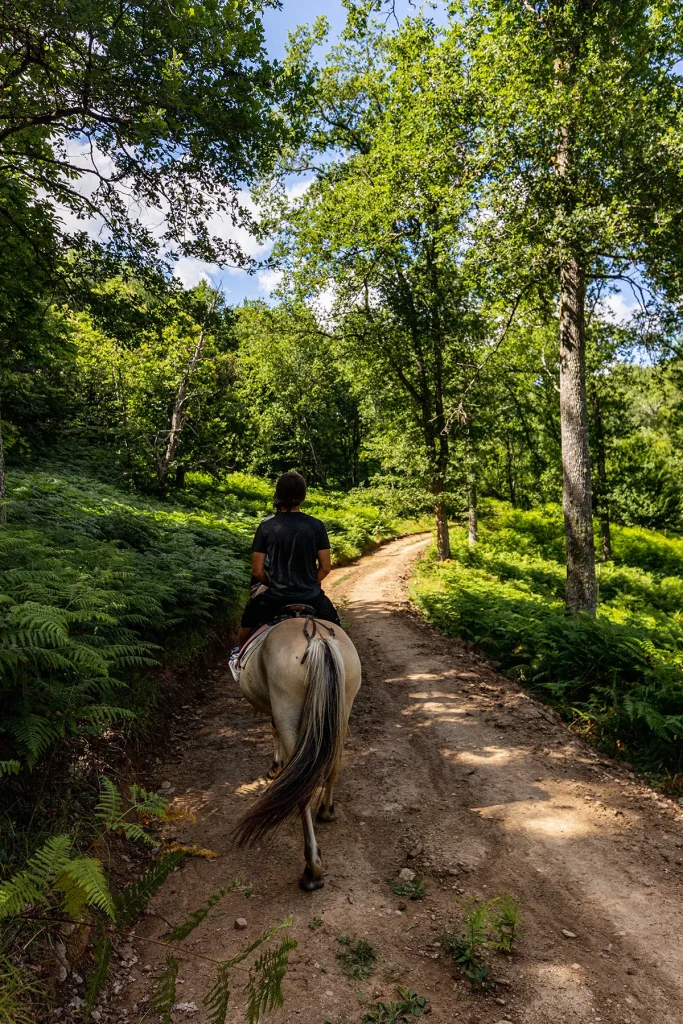 Horseback riding
Nature and horse lovers? Saddle up! Explore the territory's hiking trails on horseback. Breathe in the fresh air and admire the landscapes that await you.
Beginner or experienced riders, take advantage of lessons and courses in the equestrian centers of our territory. Let yourself be advised by passionate professionals and set off on an adventure!