Thursday morning in Villefranche, it's market! Direction the heart of the medieval bastide, explosion of flavors and colors on the program. Local products, local specialities… A single objective, to have fun!
The market: colors and flavors
It is 9 a.m. when we arrive on the Place Notre-Dame following the colorful broom of shopping baskets and caddies. The elders are already finishing their shopping… It's pleasant to see them chatting in Occitan, dressed in their beret or cap. The heart of the country house crawling everywhere.

We observe this enthusiastic crowd strolling at the foot of the Notre Dame collegiate church. With the market, this square takes on its full meaning, here we are immersed in the time of the medieval fairs that animated the city… I stop behind one of the arcades to immortalize this moment. In my photo, the parasols give another color to the beautiful stone houses of the square. Now it's up to us to dive into this happy crowd!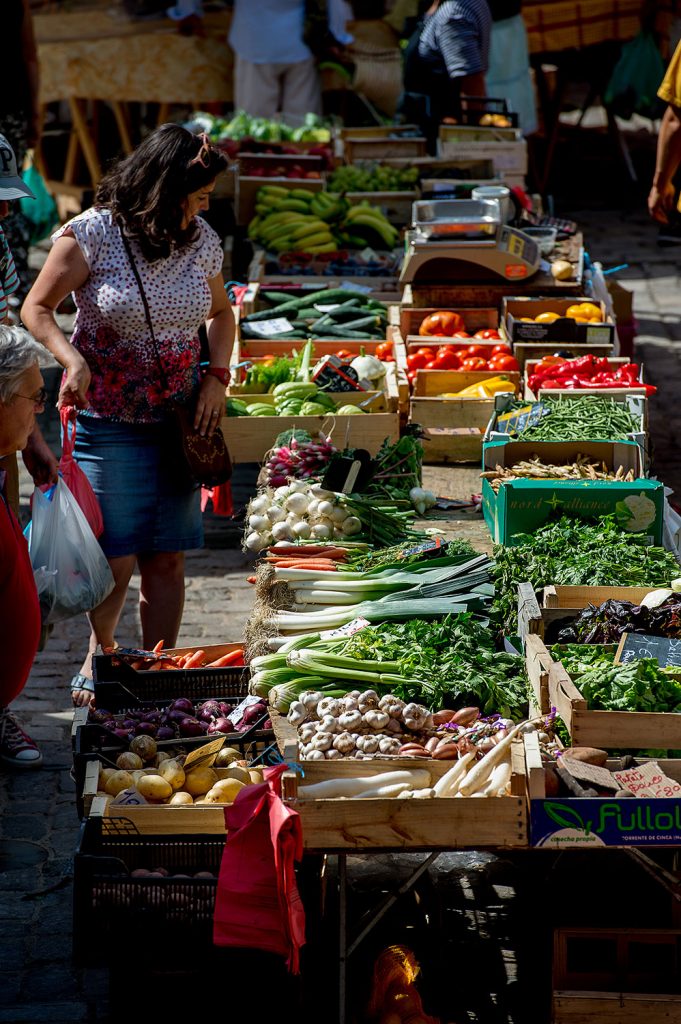 The taste of the real!
Our goal: to go shopping to concoct good little seasonal dishes, but above all have fun! As soon as we approach the stalls, tantalizing smells are already tickling our nostrils. Fresh goat's cheese, traditional dishes steaming in pots, country breads... We want to taste it all!
As we wander around, several stands attract our attention and especially our gluttony ! On one side of the square, fresh goat's cheese awaits us, quickly they seem to be successful! A little further, farçous "homemade" wriggle on their plancha. You do not know this specialty? These are Aveyron chard pancakes, a real delight!
Passing under the beautiful bell tower-gate of the Notre-Dame collegiate church, we stop at the stand of the Falgayroles Farm. These fresh cheeses and tommes de fromage are made by a community of sisters based very close to Villefranche. Accompanied by one of their jams, it will be exquisite for the end of a meal or an aperitif!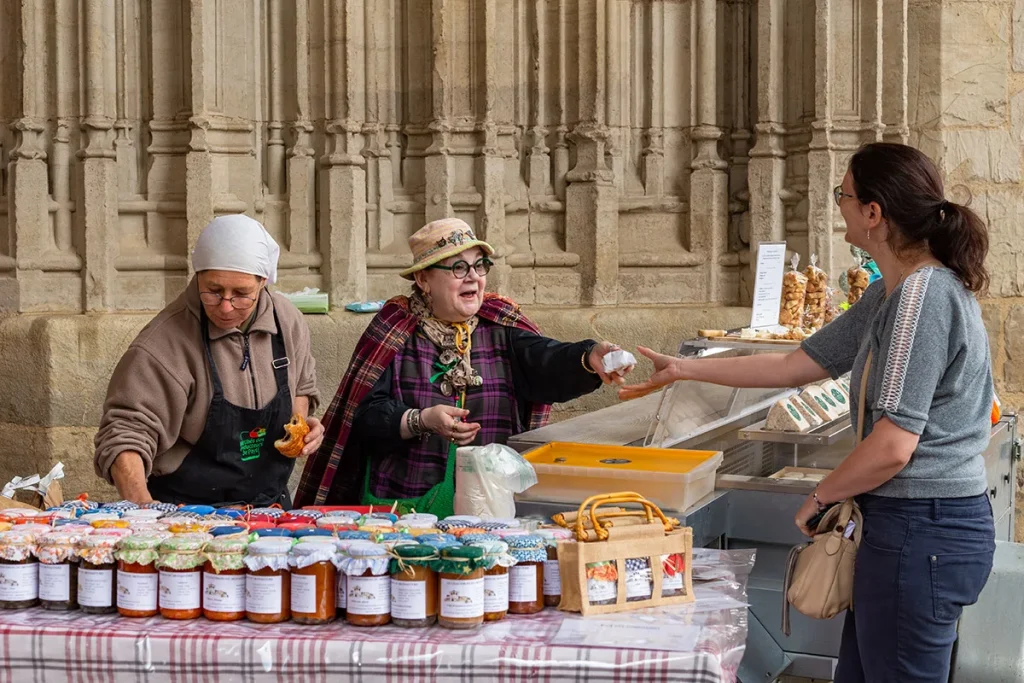 After the market: time for a break
Once our basket is full, it's time to enjoy a moment of break. Comfortably installed on a terrace under the arcades, we take full advantage of this Aveyron way of life. The comings and goings of passers-by continue, the restaurateurs are starting to set their tables... We can already see a few menus made up of market products, it makes you want to! Perhaps we could reserve at one of these restaurants before continuing our visit to the gorges of the Aveyron...
Useful information
Arrive early enough to find a parking space easily and choose Place Fontanges, a 5-minute walk away by taking Rue Marcellin Fabre.