Taste the Aveyron region! On the market, at the producers or in the restaurant, savor the local gastronomy. Salivate in front of a characterful cheese, let yourself be tempted by a beautiful terrine, crack on an enticing specialty.
The Rouergue is one of those countries filled with nature, which make you love life on this planet that we would like to make us more and more uninhabitable" said Curnonsky, gastronome, comedian and French food critic.
It is true that the "prince of gastronomes", passing through Villefranche in 1937, had been able to taste the cuisine of Rouergue, a cuisine which is not meant to be learned, but simple and which owes a lot to the quality of local and natural products.
---
Local flavours, scents and pleasures
De the country inn our big hats, Aveyron is a permanent invitation to indulge and awaken the senses! In general, establishments offer excellent value for money, often exceptional…
Here is to whet your appetite a tour de table of Local specialties.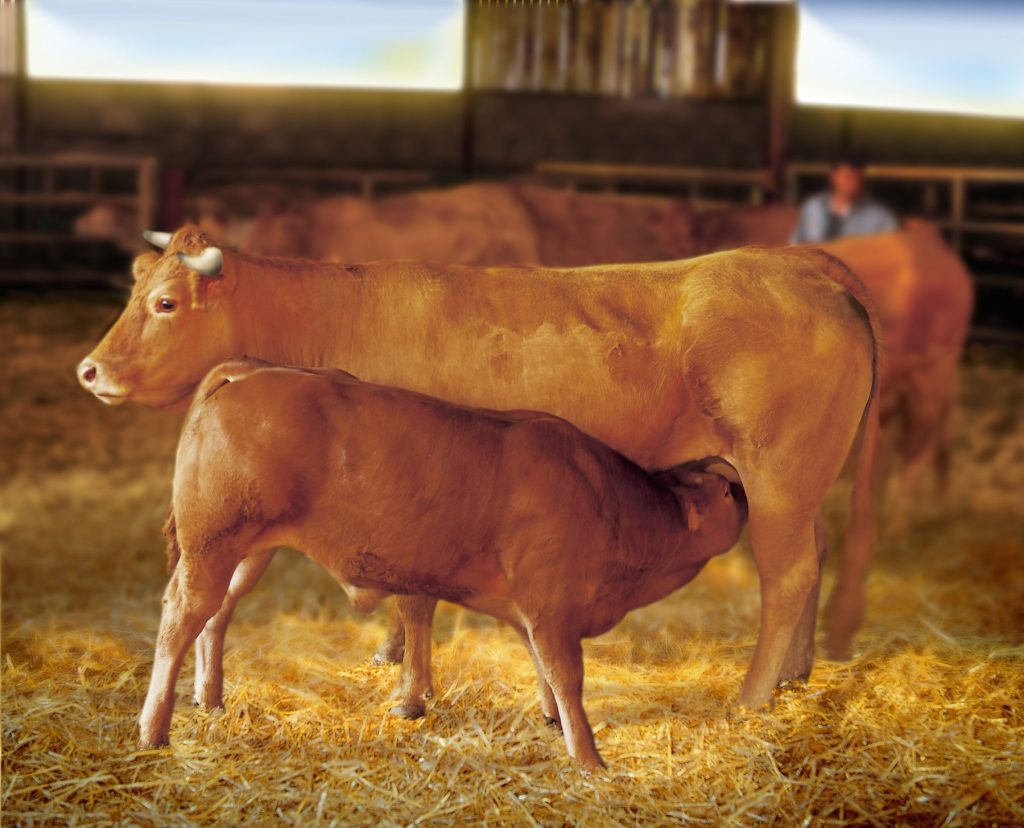 Tenderness of Aveyron veal
The Aveyron calf is born and raised in a region with a great breeding tradition, the Segala plateau. It comes from prestigious breeds of high meat quality. Breastfed by his mother and supplemented with cereals, he is rigorously identified from birth. All this precious work contributes to the famous pink, tasty and tender flesh of Aveyron veal... flesh that melts on the palate and can be cooked in various ways: grilled, roasted, pan-fried, in sauce, fondue or pin…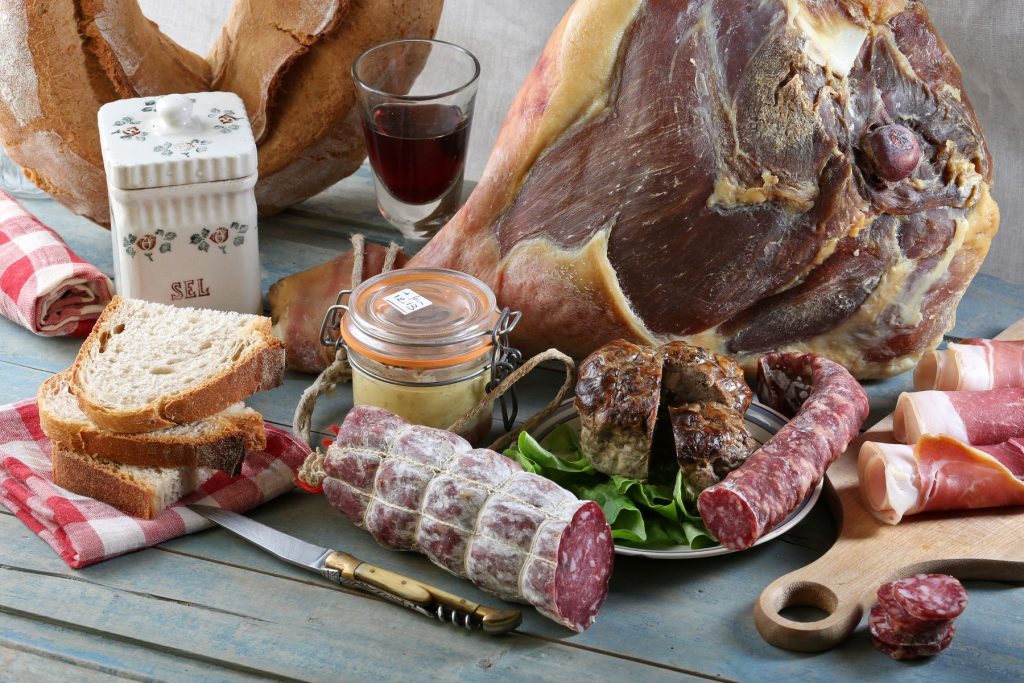 A craving for salted meats
Here the delicatessen is meant to be traditional.
Essentially based on the cutting of pork and duck, the local cured meats will offer you a whole range of local products: sausage, sausage, dried or smoked ham, large or pressed fritons or even astet, a flavored filet mignon lightly stuffed with parsley... so close your eyes and rediscover the taste of true…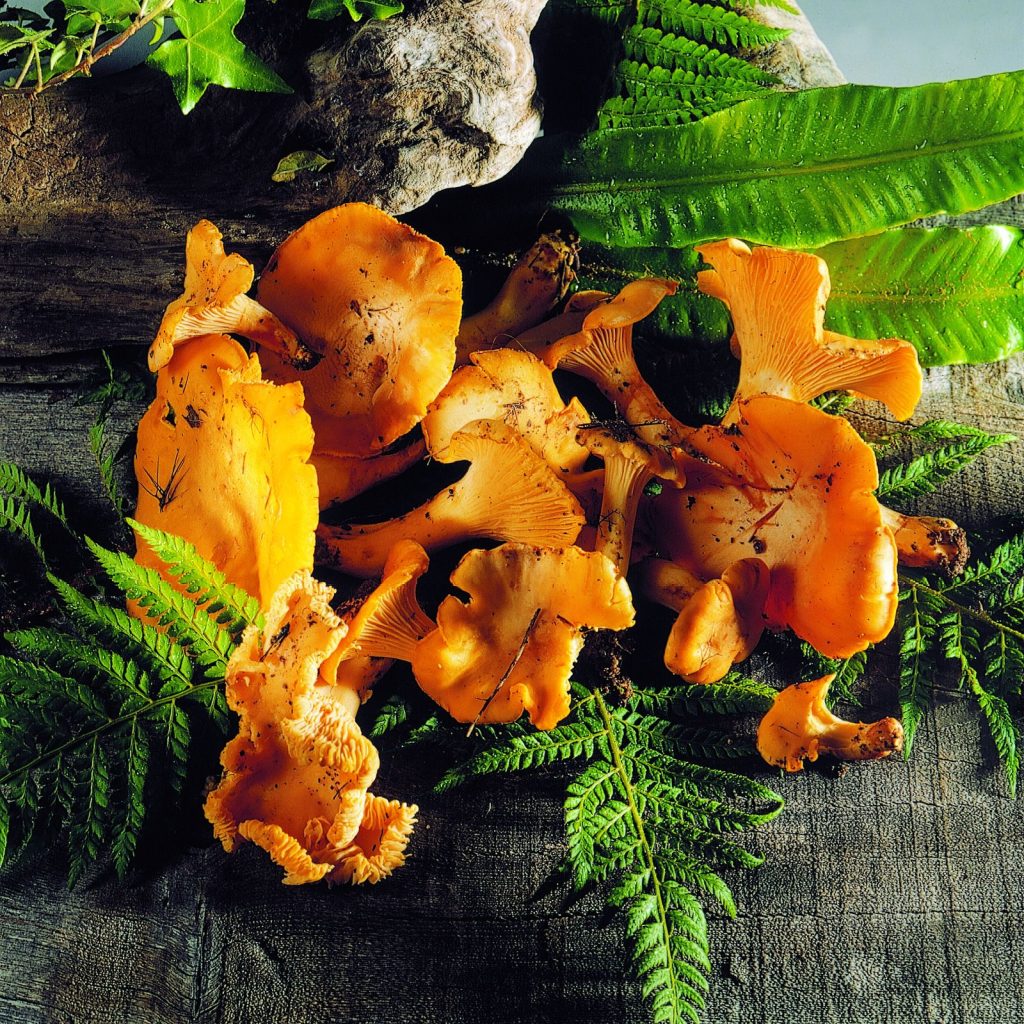 Mushroom fricassee
Porcini mushrooms delicately stuffed, chanterelles, coumellae, but also depending on the season, oyster mushrooms ou trumpets of death, our undergrowth thus becomes in autumn the antechamber of your omelettes with porcini mushrooms, your sauces and "mushroom-like" accompaniments...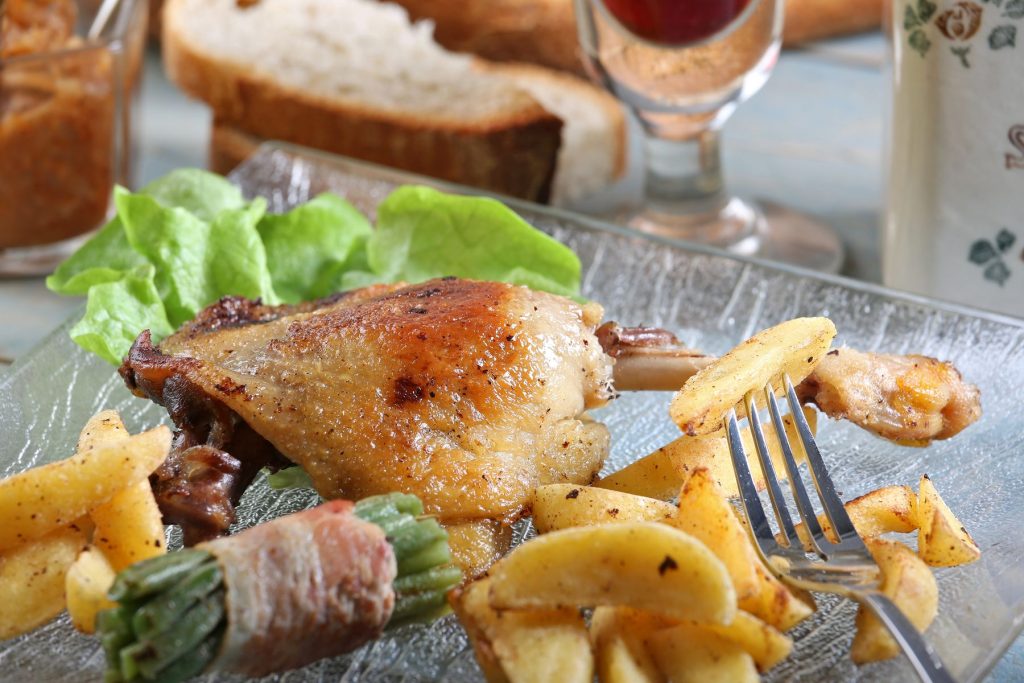 Foie gras, confit and poultry:
local accents and ancient know-how
fruit of ancient know-how and peasant tradition force-feeding, foie gras can be festive or everyday. The "extras" are seasoned and cooked in a copper cauldron, the old-fashioned way, over a wood fire. The others will be used to stuff necks, gizzards or go into the composition of pâtés.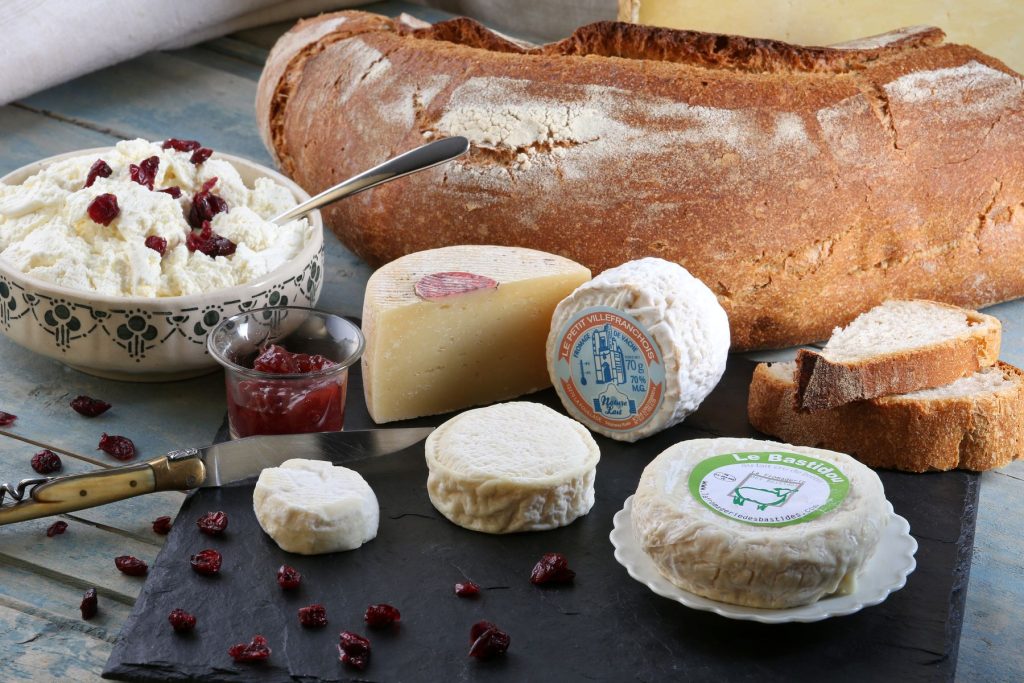 Cheese pleasures
We cannot speak of the Aveyron gastronomy without mentioning the dairy products and cheese in particular.
The Aveyron alone is indeed a pretty cheese platter with character. The department has five AOC appellations in this area: the world famous Roquefort, in his line the Causses blue ; The volume of Laguiole, one of the centerpieces of aligot; them cabecous, these small round, dry, fresh or creamy cheeses often served wrapped in a vine or chestnut leaf; and finally the sheep peril, in full expansion in the South of Aveyron.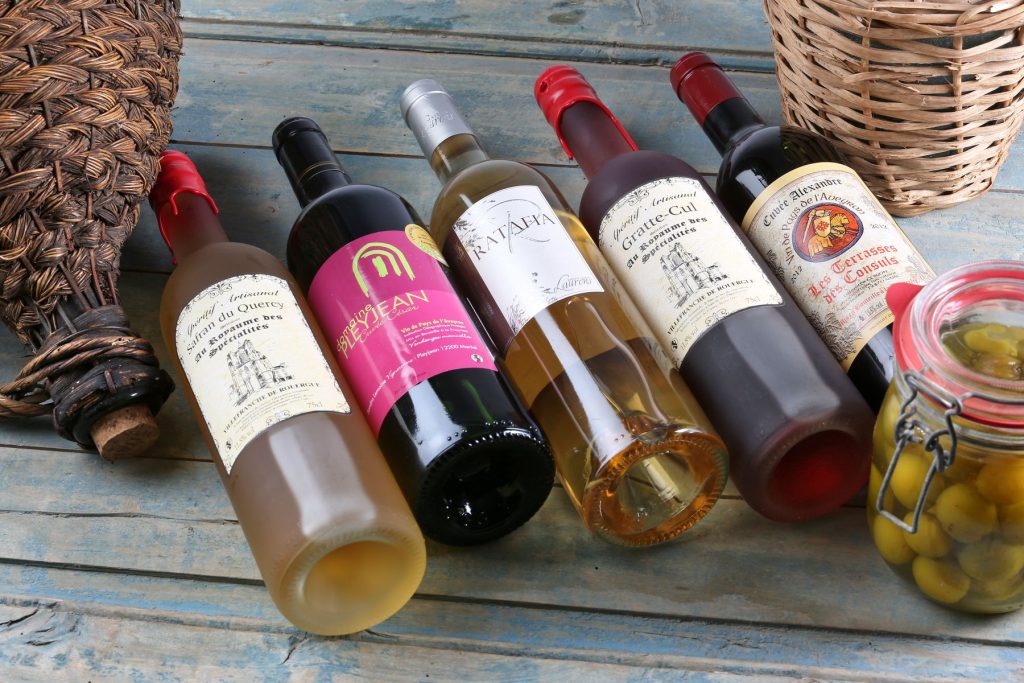 Character beverages
Although few in number, Aveyron has a few vineyards which are no less worth the detour.
Besides the essential Marcillac ;
the wines of Mas Lafon in Martiel and St-Clair near Villefranche-de-Rouergue,
of Entraygues, Estaing, Le Fel, Conques
or the Côtes de Millau, more to the south,
testify to the rebirth of a vineyard that is sometimes thousands of years old and will be good table companions.
To begin or end your meals, you will also find many aperitif and digestive liqueurs produced locally but watch out for the thrills…thrills!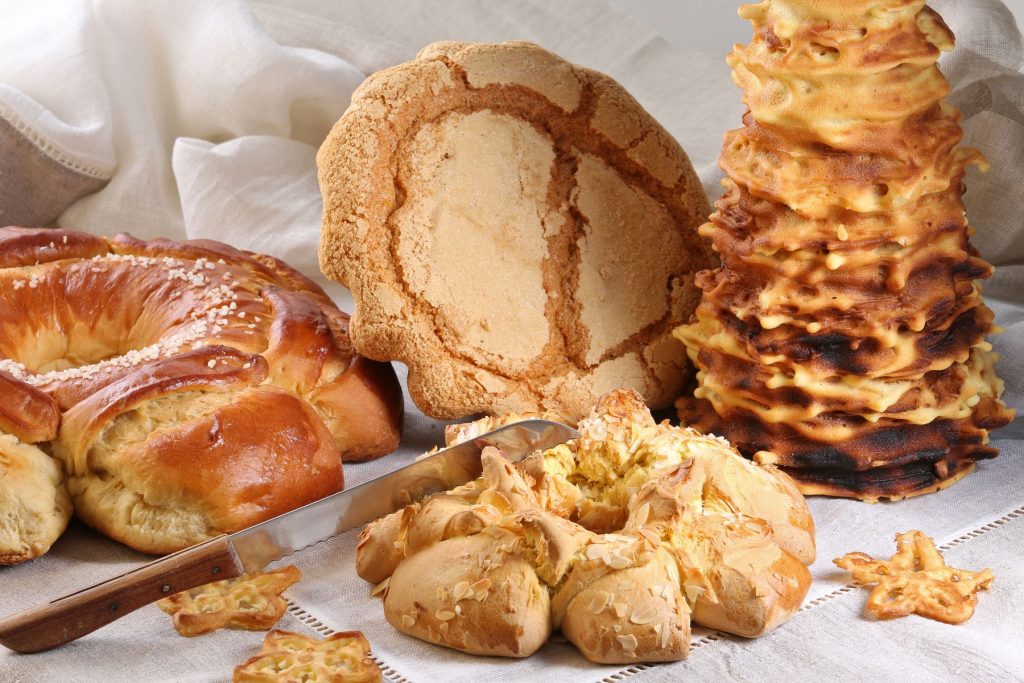 Sweets and pastry specialties
In Rouergue, a good meal does not end without a tasty traditional pastry. Not very fine, consistent we would say, they are nonetheless grams of pleasure for all palates! So discover the fouace, crunch with almonds, oil pump, scalded with anise or the very famous cake on the spit.
---
Other delicacies from the garnished basket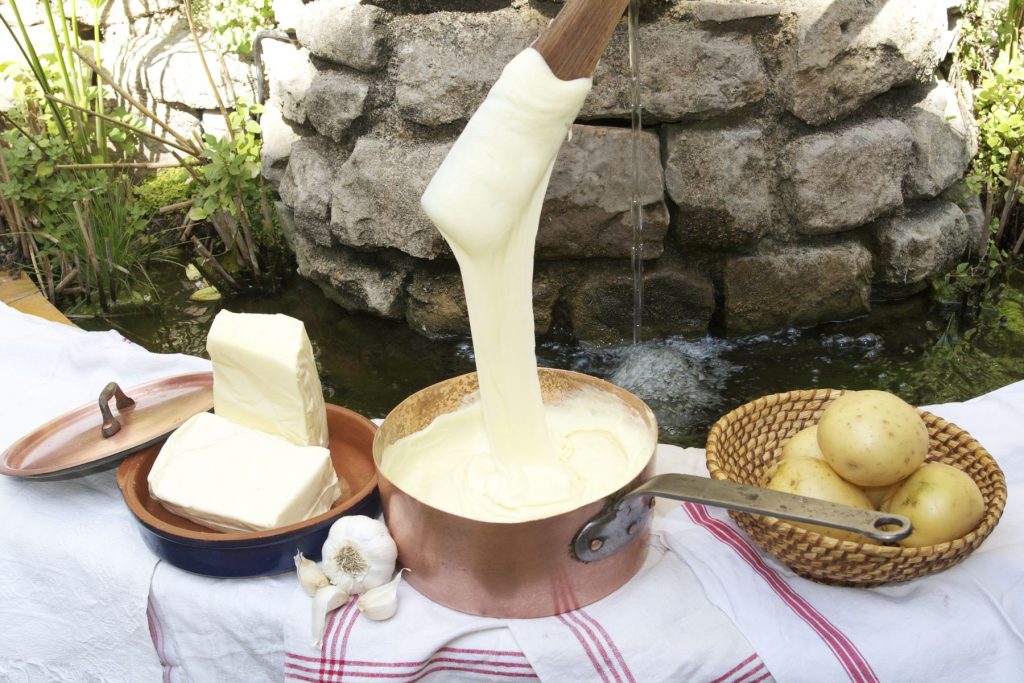 Aligot
Originally a subsistence dish served in burons to the pilgrims of Santiago de Compostela who crossed the central massif on the Via Podiensis, aligot is now a dish that is savored on a daily basis and during festive evenings. Mixture of mashed potatoes and fresh tome cheese, you have to work and rework this mixture to obtain the perfect blend. It is said of the aligot that it does not only hold in the belly but also in sympathy. The ceremonial which is specific to it and which accompanies it reinforces the cordiality between the guests… a whole ribbon of friendship!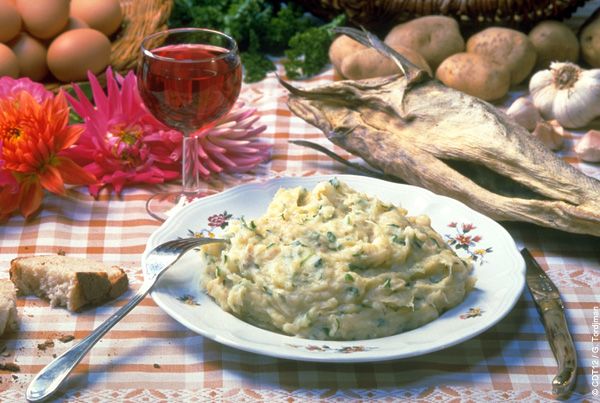 Estofinade
Each terroir marks its difference through typical meals from local history.
Estofinade, a traditional dish from Aveyron, made with potatoes and stockfish (dried cod from Norway), tells the story of the river Lot which in the XNUMXth century welcomed Bordeaux boatmen who sailed up the river with this famous dried fish on board. We continue to eat this dish today, even across the borders of Aveyron. Almont-les-Junies remains the gastronomic capital.
Safran
Produced, probably since the XNUMXth century by the bordering department of Lot, saffron represents the red gold of Quercy. Born from a mauve blue flower, harvested in October-November, it is by drying the stigmas of the flowers that we obtain the deep red of saffron and the aromas of this precious and seductive spice. Mainly used as aromatics, saffron is also available in any other form: syrup, aperitif, old-fashioned nougat, honey and various saffron jams… Even tripous, foie gras or rillettes can be delicately accompanied.
Le pain
Pie, crown, clover or long, sourdough, rye, walnut, or even covered with local honey… Bread is present in all possible forms and at any time on our tables! Its authenticity and its character, we owe it essentially to the know-how of our master bakers.
Nuts
Like bread, walnuts are available in all their possibilities. Here you will find the fresh walnut but also cake or nut bread, the classic walnut oil or even the very popular walnut wine.