Savor the authenticity of the terroir, taste local specialties and treat yourself to fresh produce. On Thursday morning, go to Place Notre-Dame, where one of the most beautiful markets in the region takes place.
Thursday is market day!
The unmissable event for epicureans and gourmets who love local products ! So, hurry up to Place Notre-Dame… follow the crowd as it enters the colorful alleys, it's a explosion of flavors and colors !
We see everything and we want to taste everything! We salivate in front of sun-kissed fruits, Quercy melons, vegetables just out of the ground, local specialties like the jokers. We love sweet delicacies: fouace, honey, cheeses, charcuterie, eggs from the farm! There is something for every taste !
An event not to be missed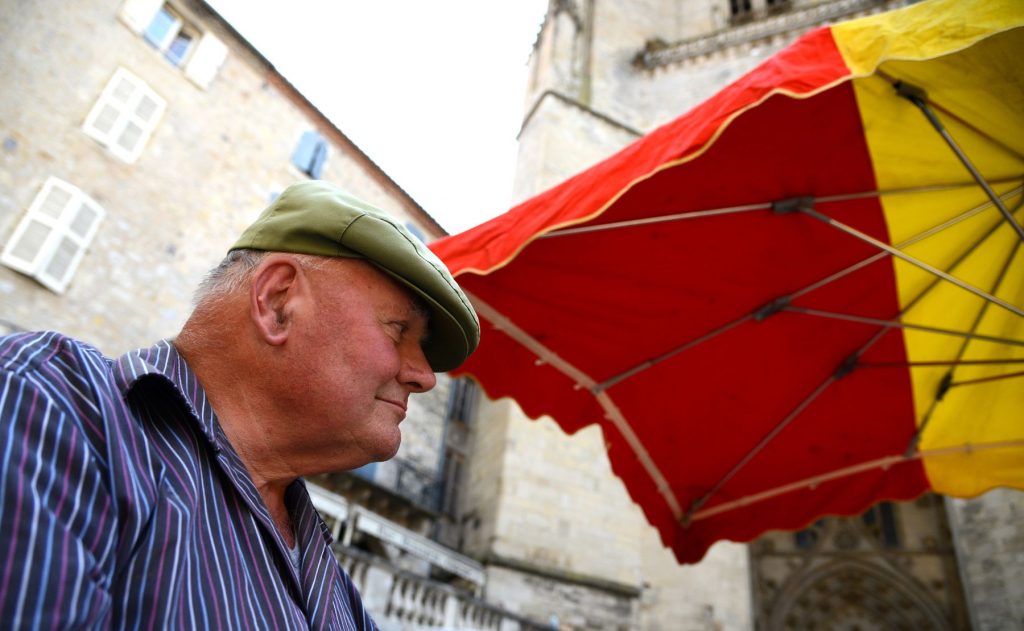 The local, behind their stalls, have a smile and exchange a good word with the locals! The elders who speak Occitan give each other news: from the Aristide Briand alleys, to the Place Notre-Dame, in the shadow of the Collegiate Church, passing by the Place du Saint Jean, it is a whole country that finds itself , as for exchange only for shopping!
We are not chauvinists, but the Villefranche market is one of most beautiful markets from the region…from France itself! So, bring a piece of Aveyron home and bon appetit, of course!
To share a pleasant moment, in summer, the city hosts farmers' markets: choose the contents of your plate, sit down at our table and let's dance the night away!
Watch Marie's escapades in Aveyron
Market dates to stock up on local products
Monday
Villeneuve : Fair on the 1st Monday of the month
Tuesday
La Fouillade : 1st Tuesday of the month
Caylus : Morning
Laguepie : Fair on the 3rd Tuesday of each month
Salles-Courbaties : From 18 p.m.
Wednesday
Laguepie : In the morning (except the 3rd Wednesday of the month)
Memer : Morning
Thursday
Villefranche : Large morning market all year round, Place Notre-Dame, Allées Aristide Briand and Place Lescure
Saint Antonin Noble Val : Organic market from 16 p.m., Avenue Paul Benet
Friday
Foissac : At the end of the afternoon
Naussac : From 17:30 p.m. to 18:30 p.m.
Parisot : Morning
Saturday
Villefranche : Mornings all year round, Place Notre Dame
La Fouillade : Mornings in July and August
Caylus : Morning
Varen : Morning
Sunday
Villefranche : In the morning, Place de la République
Laguepie : Morning
Saint Antonin Noble Val : Morning
Najac : Morning
Villeneuve : Morning