All roads lead to Santiago de Compostela! After a bit of training, try the adventure departing from Villefranche de Rouergue and explore the landscapes of the Aveyron gorges.
1 years of pilgrimage in Rouergue
In the XNUMXth century, the pilgrim's guide by Aymery Picaud described four symbolic routes that crisscrossed France today to lead pilgrims to Santiago de Compostela. All along the medieval roads, pilgrims meditated near a crowd of relics. The Rouergue did not escape these devotions to cure the evils of everyday life, nor the passage of pilgrims. With them also circulated ideas, artistic forms...
Between Conques and Toulouse, a connecting path between the Puy-en-Velay road (called Via Podiensis and today the GR®65) and that of Arles (called Via Tolosana, today the GR®653) allows the movement of walkers and pilgrims between the mountains of Rouergue and the plain of the Garonne. Aubin, Peyrusse-le-Roc, then Villeneuve mark out this medieval axis of circulation. In Villeneuve, they can admire, in the Church of the Holy Sepulchre, the edifying testimony of the murals recounting the miracle of the "hanged man" attributed to Saint Jacques.
At Villefranche de Rouergue, the brotherhood of pilgrims offered them board and lodging in the hospital adjoining the chapel of Saint-Jacques. The trip continues towards the south, through Najac, Cordes, and the Tarn valley which leads to the Toulouse region.
In Rabastens, the Notre Dame du Bourg church preserves a set of paintings which testify to the deep devotion to Saint Jacques present along this route. As such, along with the Sainte-Foy abbey in Conques and the Saint-Sernin basilica in Toulouse, it is inscribed on the World Heritage List as part of the cultural property "Roads to Santiago de Compostela in France". This pedestrian and cultural route is signposted as a GR®62b, 36 and 46 long-distance hiking trail. It is nearly 200 kilometers and passable in 10 days.
---
Walk the Camino de Santiago
of Compostela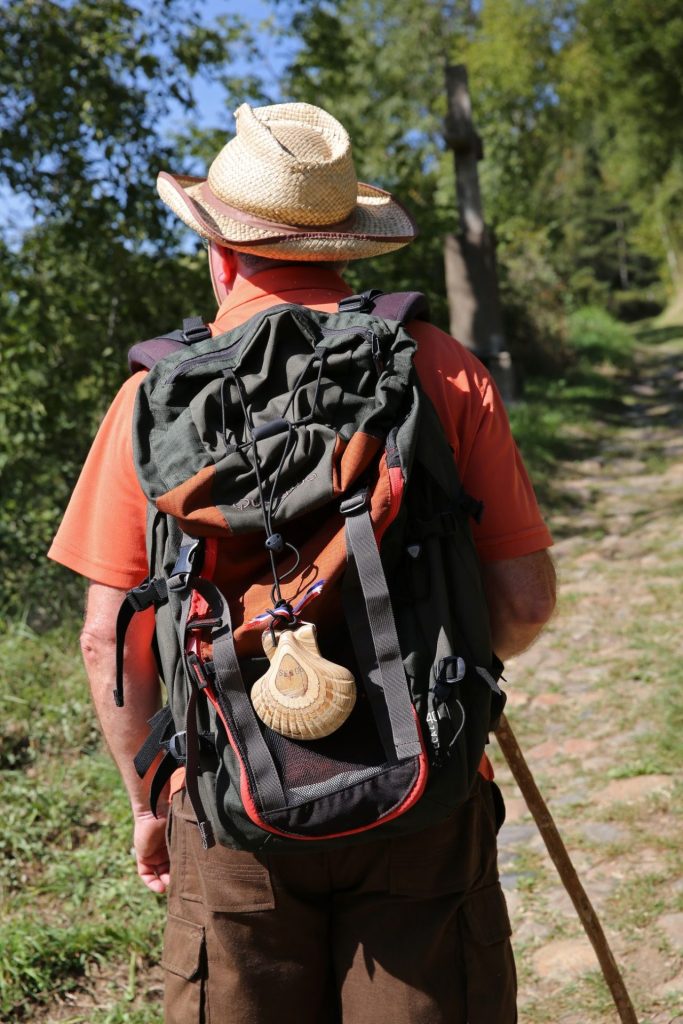 From Conques to Toulouse
Conques (12) to Cransac (12) 24,4 km
Cransac (12) to Peyrusse-le-Roc (12) 21,5 km
Peyrusse-le-Roc (12) to Villeneuve d'Aveyron (12) 15.6 km
Villeneuve d'Aveyron (12) to Villefranche de Rouergue (12) 13.4 km
Villefranche de Rouergue (12) to Najac (12) 23.2 km
Najac (12) to Cordes (81) via Laguépie (82) 25,8 km
From Villefranche de Rouergue to Najac
Want to try the adventure? Travel along part of the GR36 between Villefranche de Rouergue and Najac. On your way, you will see:
Beautiful landscapes between moors and gorges
---
Information to make the way
On your way, find all the accommodations and restaurants as well as the places to have your credentials stamped!
Accommodation less than 2 km from the path
Restaurants on the territory
---
Have your credential stamped
In Villeneuve
In Villefranche

at the tourist office
at the Chapel of the Black Penitents
at the Chartreuse St Sauveur
at the Collegiate
To Najac
at the tourist office

at the AAGAC leisure center
Other useful links for more information: