An exceptional example of XNUMXth century military architecture, the fortress of Penne dominates the gorges of the Aveyron. Climb to the top of the cliff for a breathtaking view.
A medieval village in the heart of the Aveyron gorges
Classified " Grand Site Occitania Alongside Cordes sur Ciel, Puycelsi, Bruniquel and Castelnau-de-Montmiral, Penne is a Tarn village perched above the gorges of the Aveyron between Albigenses, Quercy and Rouergue.
From Najac or Villefranche de Rouergue, after visiting Saint Antonin Noble Val, one of the Great sites Occitanie and traveled some pretty winding roads in the valley, let yourself be surprised by this charming village of character.
Penne Fortress
Come and relive the fascinating history of the fortified castle and life in the Middle Ages
A magical place
Clinging to a rocky outcrop overlooking the village of Penne, the medieval fortress could serve as the setting for the most fabulous of tales. Windswept more than 120 meters above the Grésigne forest, the site is ideal for bringing the past to life, with stories of battles, princesses and knights.
Go through the large door whose structure resembles the Porte Narbonnaise in Carcassonne! Then enter the inner courtyard, a former stately home where parties and banquets took place. Look up and face at the remains of the dungeon, a symbol of the military past of the fortress, whose irregular enclosure was pierced with loopholes.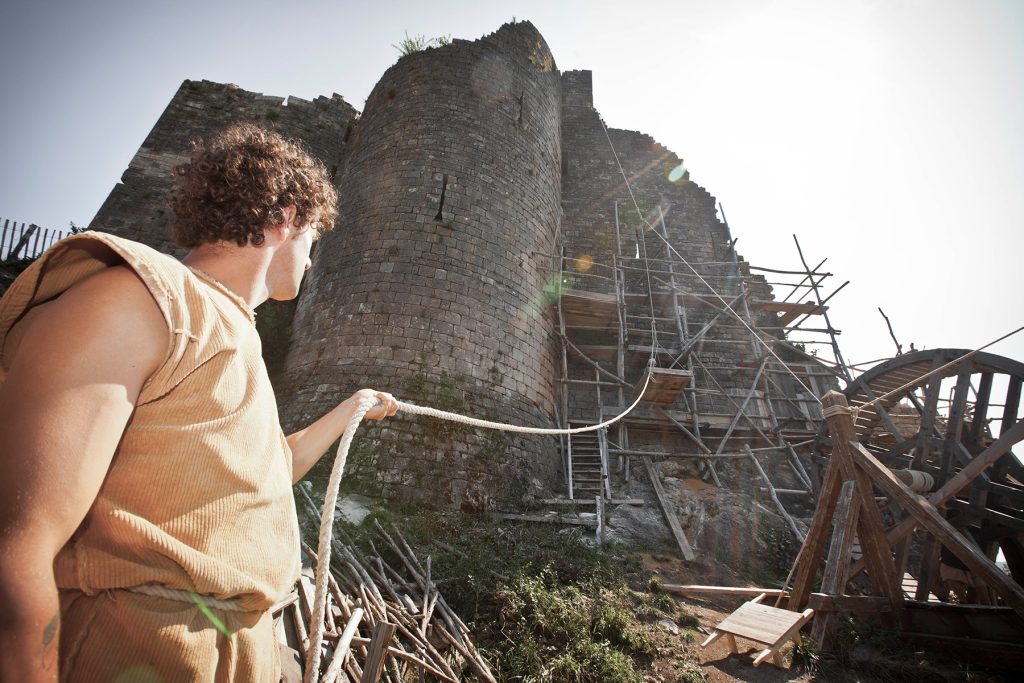 Tours suitable for everyone
Listed as a Historic Monument in 1902 and open to the public since 2010, the castle is a real open-air construction site! In the summer period, the work of craftsmen builders will arouse your curiosity. Meet these passionate workers and discover archaeological treasures revealed by the excavations during the restoration of the castle.
Follow a illustrated interpretive trail which will tell you the story of the fortress of Penne but also the way of life of people in the Middle Ages. Or, soak up this medieval atmosphere by following a guide in period costume !
As a family with children, follow a educational booklet and discover the site in the form of games.
Prepare your visit
| Opening hours from October 01 to November 13, 2022 | |
| --- | --- |
| Wednesday | Open from 10 p.m. to 17:30 p.m. and from 14 p.m. to 17:30 p.m. |
| Thursday | Open from 10 p.m. to 17:30 p.m. and from 14 p.m. to 17:30 p.m. |
| Friday | Open from 10 p.m. to 17:30 p.m. and from 14 p.m. to 17:30 p.m. |
| Saturday | Open from 10 p.m. to 17:30 p.m. and from 14 p.m. to 17:30 p.m. |
| Sunday | Open from 10 p.m. to 17:30 p.m. and from 14 p.m. to 17:30 p.m. |
Guided tours during the All Saints holidays on October 23, 30 and November 1, 6 and 11 at 14 p.m. and 30 p.m.
| Opening hours from November 14 to November 30, 2022 | |
| --- | --- |
| Friday | Open from 10 p.m. to 13 p.m. and from 14 p.m. to 17:30 p.m. |
| Saturday | Open from 10 p.m. to 13 p.m. and from 14 p.m. to 17:30 p.m. |
| Sunday | Open from 10 p.m. to 13 p.m. and from 14 p.m. to 17:30 p.m. |
| Opening hours from December 17 to December 30, 2022 | |
| --- | --- |
| Monday | Open from 10 p.m. to 13 p.m. and from 14 p.m. to 17:30 p.m. |
| Tuesday | Open from 10 p.m. to 13 p.m. and from 14 p.m. to 17:30 p.m. |
| Wednesday | Open from 10 p.m. to 13 p.m. and from 14 p.m. to 17:30 p.m. |
| Thursday | Open from 10 p.m. to 13 p.m. and from 14 p.m. to 17:30 p.m. |
| Friday | Open from 10 p.m. to 13 p.m. and from 14 p.m. to 17:30 p.m. |
| Saturday | Open from 10 p.m. to 13 p.m. and from 14 p.m. to 17:30 p.m. |
| Sunday | Open from 10 p.m. to 13 p.m. and from 14 p.m. to 17:30 p.m. |
Except on December 19, 24, 25 and 26
| Prices | Min. | Max. |
| --- | --- | --- |
| Individual adult | 5 € | 7 € |
| Individual child | 3 € | 3.5 € |
| Student – ​​Reduced | 4 € | 5.5 € |
| Adult group | 4 € | 5.5 € |
| Child group | 2.5 € | 3 € |
| Individual for all ages – Family package | 14 € | 19 € |
| Adult group – Tribe of friends package | 25 € | 35 € |