Between the Lot and Célé Valleys, explore the town of Figeac and its surroundings. Stroll through the historic center and follow in the footsteps of Champollion at the Museum of World Scriptures.
A stage on the way to Santiago de Compostela
From Figeac, follow the Via Podensis, one of the four major routes to reach Santiago de Compostela. Frequented since the XNUMXth century, it begins in Puy-en-Velay, passes through Aubrac and Conques before joining Figeac. This route is today the route most taken by pilgrims!
The iconic hearts
From the church of Notre Dame du Puy which overlooks the old town, reach the historic center of Figeac. From squares to alleys, contemplate the sculpted facades et half-timbered houses of the Middle Ages. Go back in time to Champollion museum and before going to explore the surroundings, enter the Church of St. Saviour, comparable to the Sainte-Foy church in Conques.
Loading
The Champollion Museum – The Writings of the World
If there is one must-visit site in Figeac, it is the Champollion museum ! Already from the outside, it catches the eye with its facade mixing medieval and contemporary architecture. Push open its doors and, just like Jean-François Champollion, unravel the mystery of hieroglyphics in your turn!

On four levels and eight rooms, familiarize yourself with the birth of alphabets, the Fmanufacture of parchment and discover a exceptional collection : mummy, bronze statuettes, manuscripts…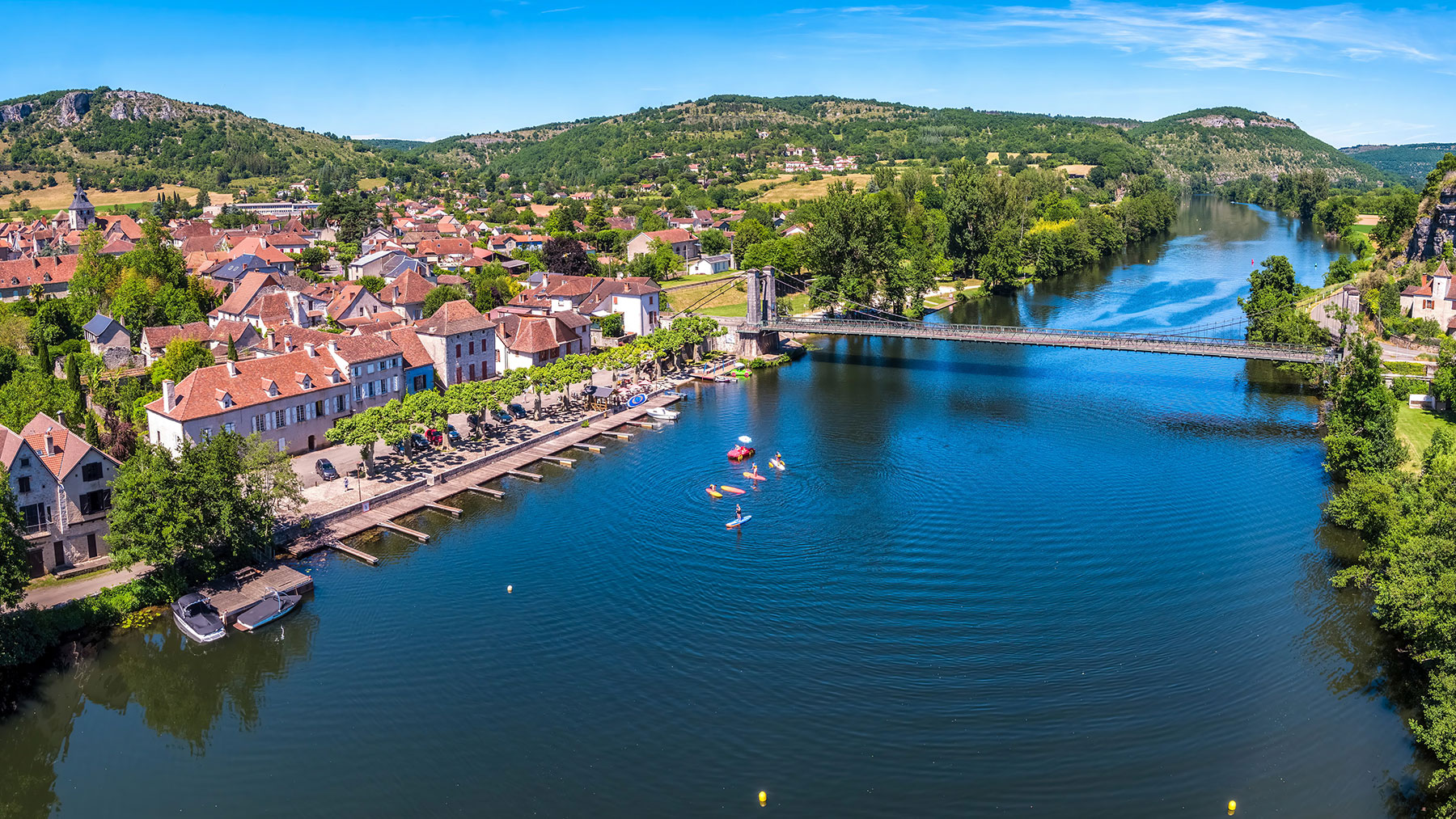 Let yourself be carried along by the water
The Lot and Célé Valleys
Around Figeac, enjoy beautiful landscapes by following the Cele Valley. Make a stop at Priory of Espagnac-Sainte-Eulalie, founded in the XNUMXth century before visiting Marcilhac-sur-Cele and his abbey. On the heights of Figeac, stop at Cardaillac, one of the most beautiful villages in France. Admire its Fort, a vestige of its rich feudal past. In Lacapelle-Marival, admire the XNUMXth century paintings and XNUMXth century decorations of the castle.Take the time to contemplate by letting yourself be carried along the Lot valley to Cajarc. Stroll through the charming alleys of this village and take a seat on one of its terraces.