In the majestic setting of the Lot valley, one hour from Villefranche de Rouergue, Cahors, City of art and history, is made for the joy of exploration. From its Valentré bridge, emblem of the city, stroll through its medieval streets full of charm.
How to get there ?
From Villefranche de Rouergue: take the D911 towards Cahors (about 1 hour)
Our advice: on your way, make a detour to Saint Cirq Lapopie, one of the most beautiful villages in France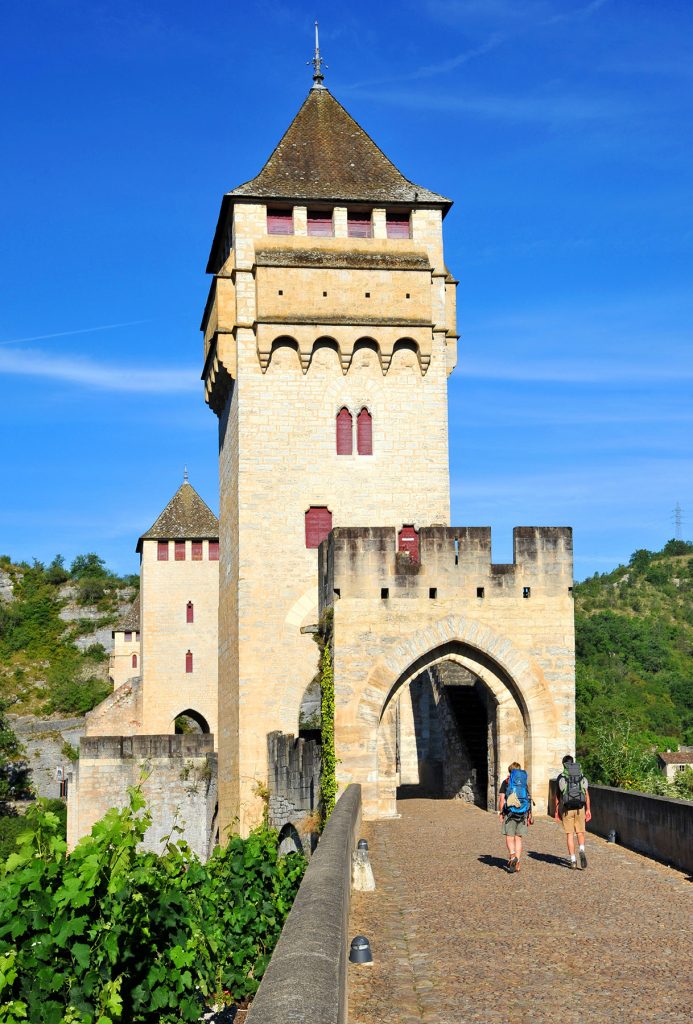 Cahors: between heritage and art of living
Du Valentre bridge to the St. Stephen's Cathedral, passing by the market place and the terraces of the boulevard Gambetta, the first city of the Lot combines southern atmosphere, historical wealth and gourmet pleasures.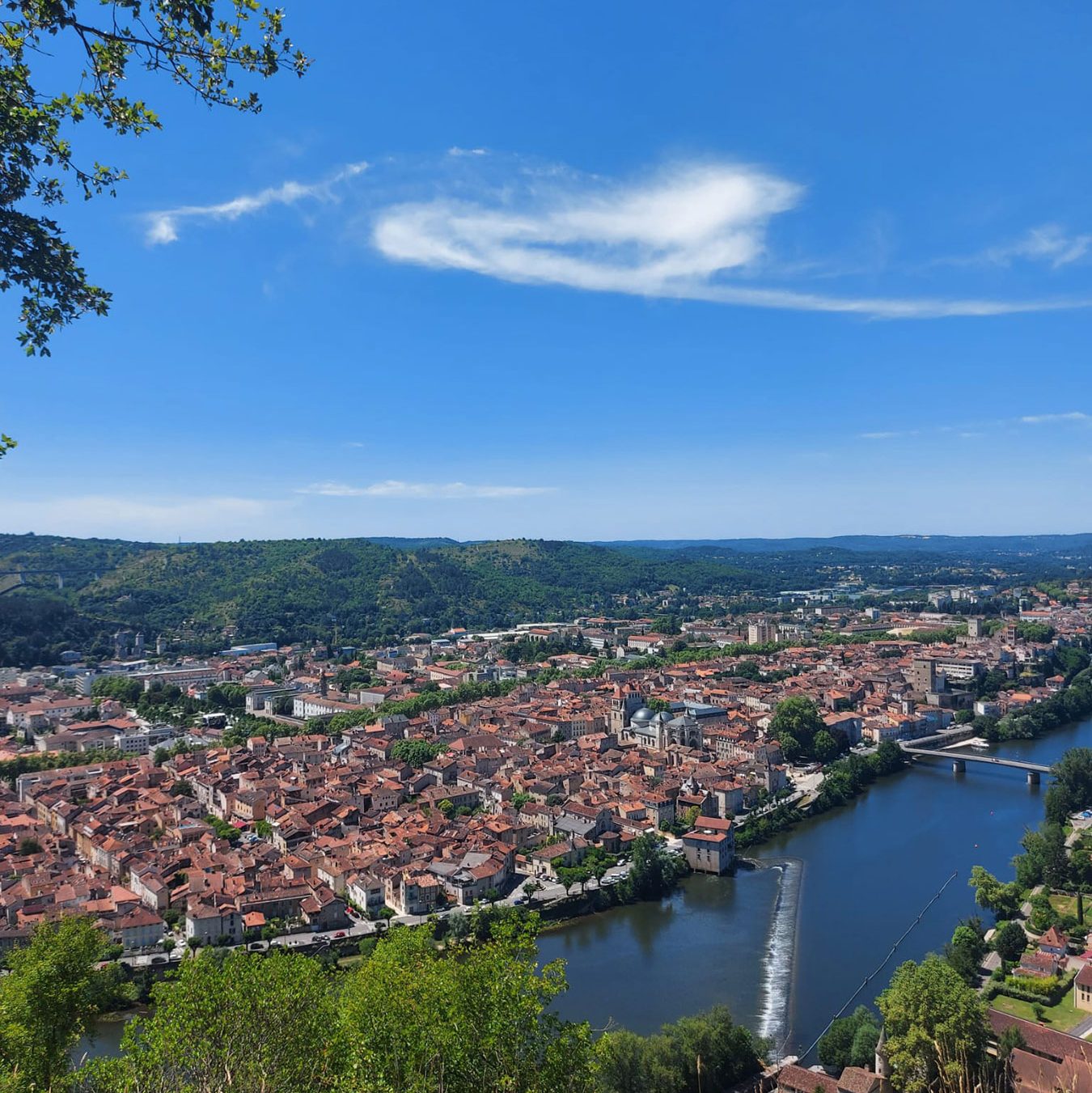 The iconic hearts
Over the Lot valley, discover the emblematic hearts of the Grand Site Occitanie. Of Saint Cirq Lapopie à Puy the Bishop, follow the meanders of the river. Between high cliffs and vineyards, contemplate sublime landscapes.
Loading
Sabine's tips
Sabine Baldès, winemaker in Cahors gives you her tips for discovering the Grand Site Occitanie Cahors, Lot Valley.
Cahors, City of art and history
First stage : the Valentré bridge, emblem of the city. With superb unshakeable he crossed the river carrying his three fortified towers. XNUMXth century building, the Valentre bridge as the St. Stephen's Cathedral is registered at world heritage by UNESCO.
At the turn of the medieval streets, we savor the charm of the renovated squares and the inventiveness of the Secret Gardens that bloom the city. The arcades of the shops of the Middle Ages welcome restaurants, cafes and shops. In the shade of the plane trees, Boulevard Gambetta, a heritage of the XNUMXth century, invites you to stroll and relax.
Not to be missed, on Wednesday and Saturday mornings: the gourmet market which takes place at the gates of Saint-Étienne Cathedral.
Patrice THEBAULT – CRTL Occitanie
Destination Vineyards
Cahors is located in the heart of the vineyard who carries his name. Its territory is the cradle of a long line of winemaking know-how.
From Saint Cirq Lapopie to Puy l'Evêque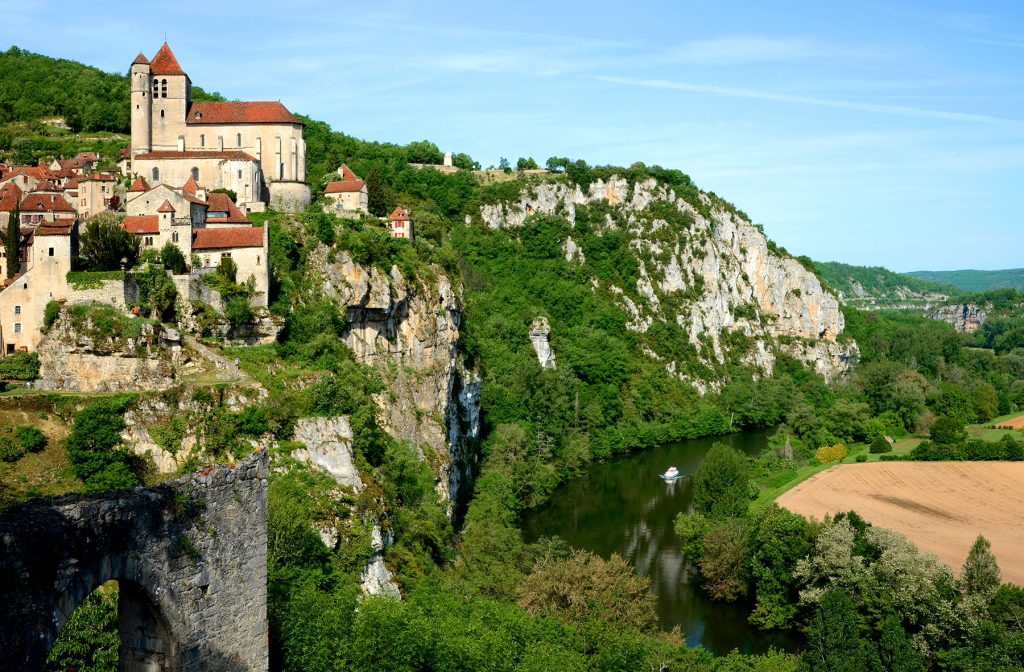 Three quarters of an hour from Villefranche de Rouergue, via Cajarc, follow a road lined with cliffs that weaves its way through the Lot valley. It takes you to an unforgettable spectacle: that of Saint-Cirq-Lapopie. This marvelously intact medieval village hugs the rock face 100 meters above the river. He was also elected "Favorite village of the French" of the year 2012.
After visiting Cahors, continue your journey to Puy-L'Eveque, medieval city of Lot valley. Take the alleys and stairs of the village built on its rocky promontory. Along the hanging gardens, the walk will take you to the craftsmen's quarter and the old port where the commercial activities linked to the transport of wine were grouped.