Protective tombs, they are the guardians of ancestral funerary chambers. Explore the circuits of the dolmens of Martiel and Foissac and let yourself be carried away by a natural history dating back more than 4000 years.
The dolmens, surprising stone constructions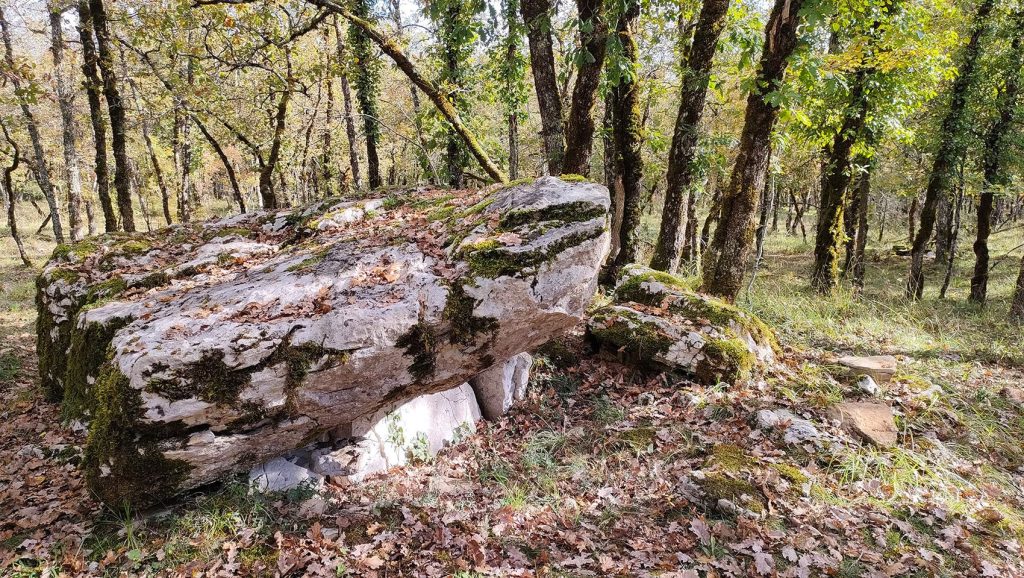 Explore the territory of the Bastides and Gorges of Aveyron in the footsteps of our ancestors. On your walk, let yourself be surprised by mysterious and intriguing constructions: the dolmens.
The term dolmen comes to us from the Breton dole, table and man, Pierre. But what were they for? Built at the prehistory, these buildings are funerary monuments having housed collective burials. At the turn of your walk, they will impress you with their sometimes imposing size. Consisting of large slabs of cover placed on vertical stones serving as feet, they raise a major question… How did they do it?!

Imagine the techniques and tricks that Neolithic men had to put in place to build megaliths and dive back more than 4 years...
Aveyron, land of dolmens?
You thought that our Breton friends had a monopoly on menhirs, dolmens and other megalithic constructions ? Think again ! Aveyron is even the French department with the most dolmens! There are nearly 1 of them in the Aveyron area. Smaller than those of Brittany, they nevertheless surprise by their strong geographical concentration. You will sometimes be able to observe 000 to 5 of them by walking a few meters!
Why such concentration? Specialists tell us about the "limestone law" according to which the calcareous soils are favored grounds for the construction of dolmens. Our Causse is therefore a good place to observe them!
A circuit, dolmens
Enjoy the calm and nature, with family, couple, friends or solo to awaken all your senses!
The circuits of the dolmens
Many circuits allow you to discover these thousand-year-old riches! Put on your trainers, slip a little snack into your backpack and set off to explore the trails of the causse.
In Villeneuve or Martiel, enjoy a natural setting enchanting for a walk in the oak woods. Here nature rhymes with adventure! As a family, walk the marked paths and come face to face with these prehistoric monuments. Take the time to observe the flora that surrounds you, the landscapes of the Causses and its small heritage: caselles, dovecotes...
Follow us to discover the dolmens of Foissac. In the heart of nature, follow the paths between oaks and junipers on the trail of these large monolithic stones