Important jacquaire halt, this city of character offers a Architectural Heritage exceptional. Criss-cross its labyrinthine rescue and squared bastide.
A step towards Santiago de Compostela
Located on the Conques-Toulouse route, Villeneuve d'Aveyron was once equipped with a hospital, a leper and several inns. Even today, many testimonials allow you to dive into the Middle Ages, at a time when pilgrims stopped and came across crowds of peasants, merchants and craftsmen.

The finest example of this listed heritage is theChurch of the Holy Sepulcher, an integral part of an originally larger monastic complex. At a time Romanesque and Gothic, it is a architectural masterpiece southern. One of its chapels houses polychrome frescoes dating from the fourteenth century. Dazzling, these feature a Christ in Majesty, a procession of backgammons and the astonishing legend of the Depended Hangman.

The city has two distinct districts: a labyrinthine rescue and squared bastide. As you stroll through Villeneuve, will you be able to identify them? We give you some clues...
A labyrinthine rescue
Lose yourself in the winding and irregular streets of the rescued, a maze of light stones that will charm you.

In the middle of the XNUMXth century, the local lord, Ozile de Morlhon, offered part of his Rouergue lands to the Patriarch of Jerusalem. Very quickly, a church bearing the name of the Holy Sepulcher was built there and a religious community came to settle there. Delimited by stone crosses, the territory of this rescued was under divine protection and it was strictly forbidden to bear arms there.

From then on, the rural populations grafted themselves all around, but in a rather disorderly way. So the first residence of Villeneuve-d'Aveyron was quite irregular, with streets going in all directions. This lack of clarity is today an advantage for the city since it is very pleasant to get lost in as he wanders.
A squared bastide
After your stroll through the stone maze, let yourself be surprised by the architectural rigor of the country house of Villeneuve d'Aveyron.

It was nearly two centuries after the founding of La Sauté that the Count of Toulouse, Raymond VII, built a bastide district to assert its authority in the region. Organized around the Place des Conques, like the other bastide in the west of the department, Villefranche-de-Rouergue, this new subdivision was endowed with a rectilinear plane in order to facilitate economic exchanges.

Its structure is delimited by two monumental doors, the Cardalhac tower and Soubirane Tower, perfect examples of military construction with their battlements, their stunners and their gun loops. These buildings open onto two cart streets partially flanked by arcades, under which commercial transactions took place. One of his most elegant residences now houses the House of Photo, exceptional testimony to the artistic work of photographer Jean-Marie Périer.

In this part of the village, the regular rhythm of the streets invites you to take a break. Take a moment to have a drink, under the charming arcades of this city of character.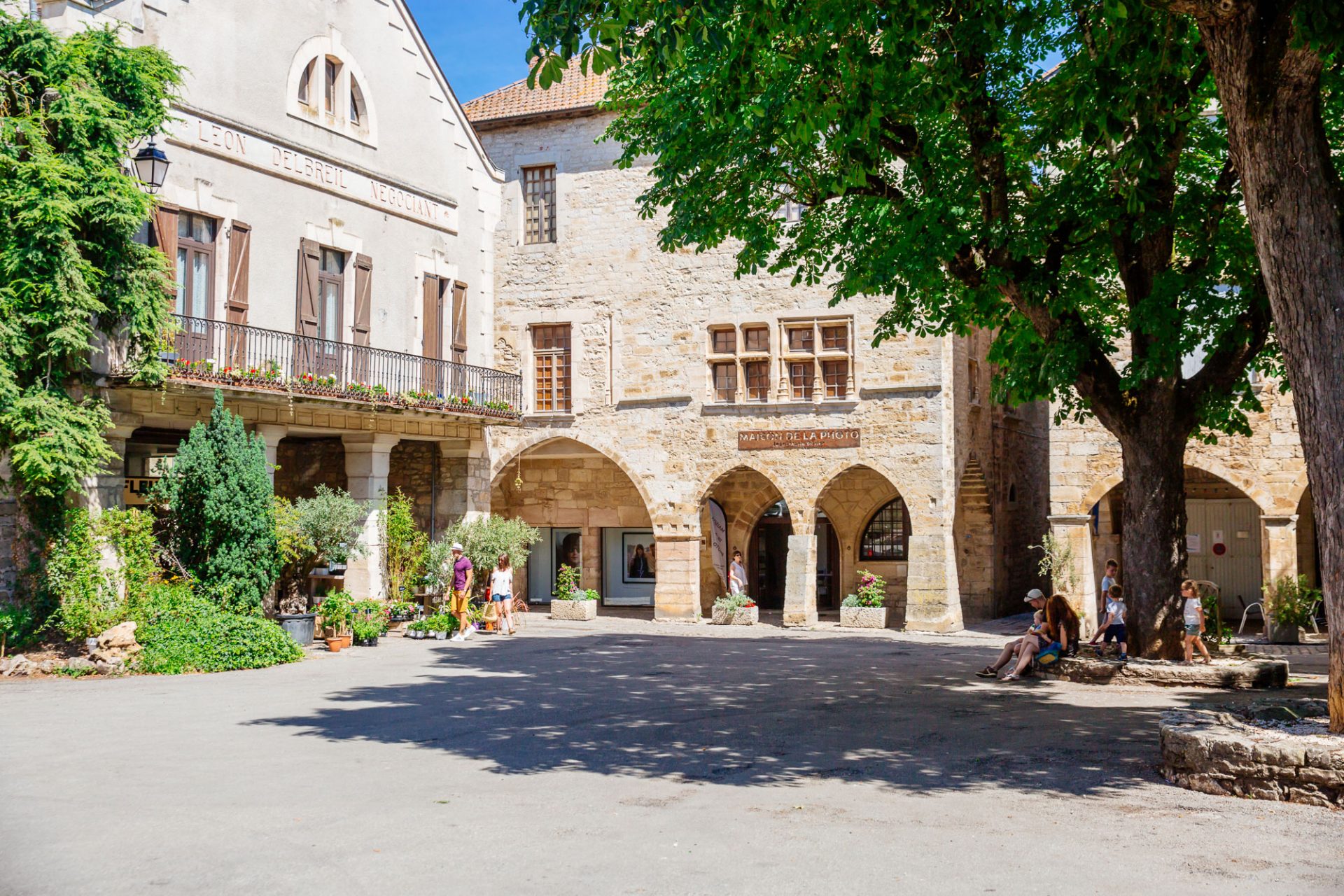 What is a bastide?
Characteristic of the Middle Ages, the bastide is a new town created to make life good there, let yourself be convinced!
Read more