Every summer, the Festival en Bastides showcases street arts in Villefranche, Najac, Villeneuve, La Bastide l'Evêque, Rieupeyroux and Sauveterre de Rouergue. Let yourself be surprised!
A festival, bastides
Now an essential event in the cultural landscape of Aveyron, the Festival en Bastides will illuminate, again this summer, the squares, alleys and gardens of the bastides of western Aveyron.

At the beginning of August, experience unique moments in the heart of six country houses : Villefranche de Rouergue, Villeneuve d'Aveyron Najac, La Bastide l'Evêque, Rieupeyroux and Sauveterre de Rouergue.

Big family and popular festival, the Festival in Bastides welcomes more than 25 companies regional, national and even European, for an exciting mix of genres.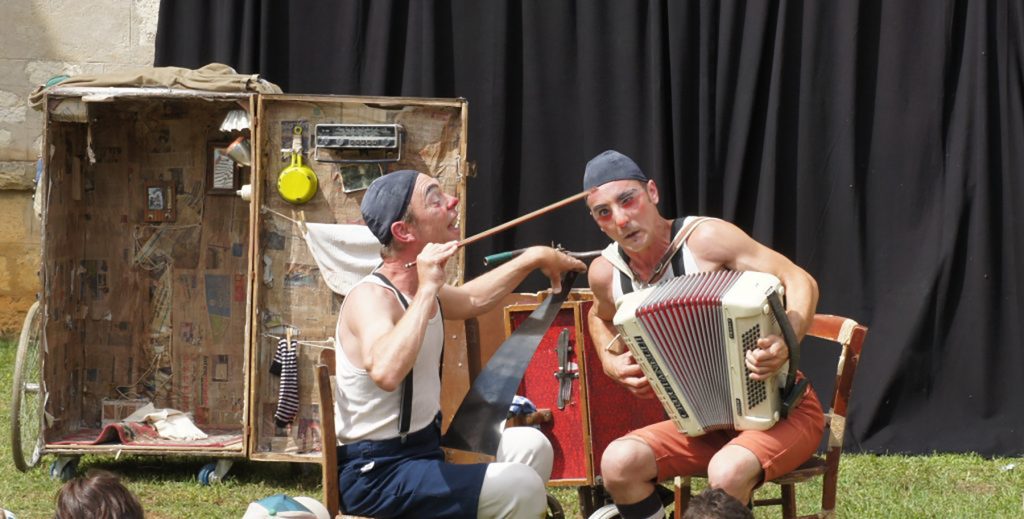 Street arts in the spotlight
At the beginning of August, spend a week with acrobats, acrobats, actors, musicians, circus performers, puppeteers, comedians, ... for the pleasure of young and old!

Marvel at a thirty performances : parades, plays, concerts, opera… The program is rich in eclectic and innovative artistic proposals!
Theatre, magic or acrobatics: creativity has no limit to make you laugh and surprise you!
Moments of conviviality and sharing
Here to ask, create links and meetings the festival is part of a dynamic of social cohesion and the fight against discrimination.

With the ambition that everyone can be part of this great adventure, a dialogue between artists and the public, in a transversal form to better discover, understand and appreciate each other, without being afraid of being pushed around but to play with, pose and ask questions, create possibilities.

It is in this spirit and to this exciting whirlwind that the association of Espaces Culturels Villefranchois invites you. Come and celebrate with family, friends, strangers, the always radiant Festival en Bastides!

Come and enjoy these moments of happiness to share, come and experience it together!