Let yourself be told the story of Najac, a medieval village perched in the Aveyron gorges. Follow our tour guides to discover a remarkable architectural heritage.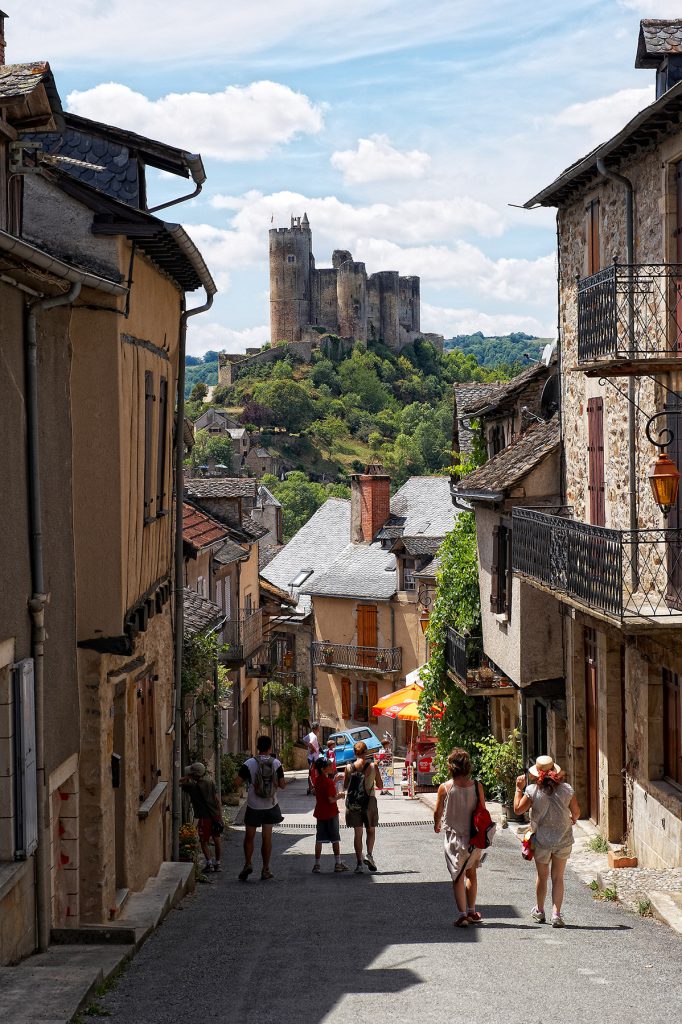 In the heart of the Aveyron gorges
Admire the castle which stands at the tip of the peak surrounded by the Aveyron at its base. Whatever path is followed to reach Najac, the royal fortress catches the eye like a magnet. The Aveyron had to bypass very hard rocks to dig its bed made of loops and meanders. This is how the rocky peak on which Najac is built has become a peninsula drowned in an ocean of greenery. The mighty fortress stands at the very end of the promontory and its splendid silhouette stands out against the sky.
The long single street winds along the entire length of the rocky outcrop. On each side, the half-timbered houses and with slate roofs line up one against the other from the Place du Faubourg, a vast and wide place of commerce and exchanges up to the Pause district where the burdens were put down before starting the climb to the village. Discover the history of this strategically located village!
A village with a rich architectural heritage
Go under the silverware of the Place du Faubourg, placed on pillars of pink sandstone. Follow your guide in the rue du Barriou and its steep slope which connects the upper district to the lower district. Then continue your way by the rue du Bourguet, you will contemplate the fountain of the Consuls (XNUMXth century), in the shape of a dodecagon. The streets become narrower from the governor's house, erected at the beginning of the rue du château, and the many small squares located on this route allow the eye to dive into the Gorges of the Aveyron.
The castle of the Counts of Toulouse (1253th and XNUMXth centuries) which became a masterpiece of military art after its reconstruction by Alphonse de Poitiers from XNUMX, stands proudly at the top of the peak. At the end of this course, discover Church of Saint John the Evangelist (XNUMXth century) imposing in its sobriety houses remarkable sacred furnishings.
Group rate
Village of Najac (1h30 visit): €5
These prices are quoted net on the basis of a minimum of 20 people, visit during the week.
For prices on Sundays and public holidays, contact us.
Freebies applied:
1 free for 20 paying
1 additional free for 40 paying